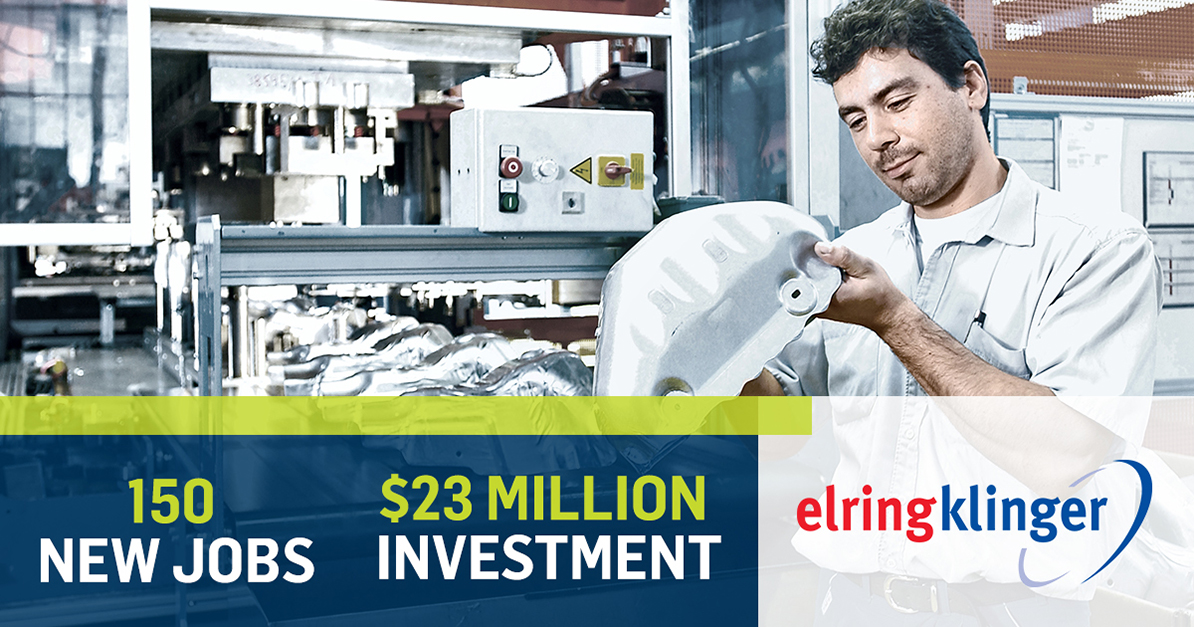 FORT WAYNE, Ind. – ElringKlinger, a global manufacturer and supplier of auto parts, today announced plans to expand into Allen County, creating up to 150 new jobs by 2022.
The company, which designs, manufactures, and distributes innovative aluminum and plastic automotive parts, will expand its global operations into Northeast Indiana, constructing a 60,000-square-foot shell building at 2677 Persistence Drive in Fort Wayne. The new facility, which will be equipped with manufacturing, logistical, research and development, and information technology equipment, will produce aluminum shielding systems for acoustic and thermal protection for passenger cars and commercial vehicles. ElringKlinger plans to begin production in September. The new site will be the company's fifth operations center in the U.S. with this expansion being its first facility in Indiana, allowing the company closer proximity to its customers.
"We have had good experiences with our U.S. plants in the past," said Dr. Stefan Wolf, CEO of ElringKlinger. "The Fort Wayne region is attractive for manufacturing companies like ElringKlinger. We're now closer to our customer and we have several industry partners around. We're looking forward to starting our production here in Fort Wayne."
ElringKlinger currently employs more than 9,000 employees at about 50 locations around the world, including associates at its U.S. facilities in Georgia, Michigan, and California. The company has already begun hiring for quality, environmental, logistics, program, industrial, and production managers, and is also hiring for engineering and manufacturing positions. Interested applicants may apply online.
Founded in 1879, ElringKlinger is an advanced manufacturing and technology group headquartered in Germany. The company, which manufactures and supplies lightweight aluminum and plastic products to reduce weight in motor vehicles, operates in different segments, which include original equipment, aftermarket, engineered plastics and services. ElringKlinger offers products for combustion engines as well as hybrid and environmentally friendly battery and fuel cell technology to its customers.
"We're thrilled to welcome ElringKlinger to Indiana, a state that is known for our central location, low costs, and skilled workforce," Governor Eric J. Holcomb said. "As a global company, ElringKlinger could have expanded anywhere, but they chose Indiana, which is a testament to our business-friendly environment and hardworking Hoosiers. We're excited to witness ElringKlinger grow as we continue to build on our economic momentum."
The Indiana Economic Development Corporation offered ElringKlinger up to $1,000,000 in conditional tax credits and up to $200,000 in training grants based on the company's job creation plans. These incentives are performance-based, meaning until Hoosiers are hired, the company is not eligible to claim incentives. The city of Fort Wayne approved additional incentives at the request of the Greater Fort Wayne Inc.
"I continue to be encouraged by the positive momentum and investments we're experiencing in Fort Wayne," said Mayor Tom Henry. "We appreciate ElringKlinger's commitment to bringing jobs to our community. Advanced manufacturing is a key business sector that helps position Fort Wayne and northeast Indiana as a leader in economic development opportunities for job growth and successful expansion projects."
As Fort Wayne and Allen County's primary point of contact for economic development services, Greater Fort Wayne Inc. worked with state and local partners to assist ElringKlinger with its expansion plans. In 2017, Greater Fort Wayne Inc. assisted 28 businesses in expansions or relocations in Allen County, resulting in a total of 1,838 projected new jobs, more than $81 million in new annual payroll, and more than $242 million in new investment.
About ElringKlinger
As an automotive supplier, ElringKlinger has become a trusted partner to vehicle manufacturers – with a firm commitment to shaping the future of mobility. Be it optimized combustion engines, high-performance hybrids, or environmentally-friendly battery and fuel cell technology, ElringKlinger provides innovative solutions for all types of drive systems. ElringKlinger's lightweighting concepts help to reduce the overall weight of vehicles. As a result, vehicles powered by combustion engines consume less fuel and emit less CO2, while those equipped with alternative propulsion systems benefit from an extended range. In response to increasingly complex combustion engine technology, the Group also continues to make refinements with regard to gaskets in order to meet the highest possible standards. This is complemented by solutions centered around thermal and acoustic shielding technology. Additionally, the Group's portfolio includes products made of the high-performance plastic PTFE which are also marketed to industries beyond the automotive sector. These efforts are supported by a dedicated workforce of more than 9,000 people at about 50 ElringKlinger Group locations around the globe.
About Greater Fort Wayne Inc.
Greater Fort Wayne (GFW) Inc. serves Fort Wayne and Allen County, Indiana, as its metro chamber alliance and primary point of contact for economic growth. GFW Inc. focuses on prosperity and community vibrancy through economic development, advocacy, programs and resources that support business success, leadership development, graduate retention and community engagement.