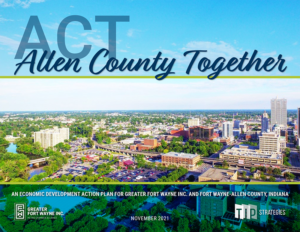 Our community has serious momentum.
We're the #2 fastest-growing metro in the Great Lakes region.
We've seen more than $1.2 billion in private investment in downtown Fort Wayne since 2009.
We've become a magnet for talent and jobs, driving positive growth across Allen County and the surrounding area.
Now it's time to raise the bar.
What are the next steps for building a nationally recognized economy?
The Allen County Together economic development action plan is the blueprint for taking us to the next level in the next 10 years (2022-31).
Bold projects
The Allen County Together plan is built around three main pillars–each supported by a series of bold projects. Highlights include:
Pillar #1: High-Growth
Attract $1 billion in private investment to the riverfront in downtown Fort Wayne by the end of 2031.
Attract and grow 2,500 net new high-wage jobs by the end of 2031 in R&D, engineering, IT, regional headquarters, and tech-driven growth industries.
Build 2,500 on- and off-campus student housing units—and other amenities associated with local higher-education institutions—by the end of 2031 to help Fort Wayne become a widely recognized college town.
Pillar #2: Innovative
Become recognized as a Top-10 Music City by the end of 2031 through expanded festivals, music venues, training and education, and music industry innovation.
Become a premier "Industry 4.0" automotive tech community and add 2,500 net new jobs in the automotive tech sector by the end of 2031.
Enhance Allen County's entrepreneurial ecosystem by launching a $10-million venture fund and accelerator by the end of 2026, housed at Electric Works. Grow the venture fund to $25 million by the end of 2031.
Pillar #3: Inclusive
Close the disparity gap by providing financing to underserved individuals and small businesses via expanded local community development financial institution (CDFI) capacity. Deploy $10 million in funding by 2026 and $25 million in funding by the end of 2031.
Build catalytic development projects in southeast Fort Wayne that attract $100 million in capital investment by the end of 2026 and $250 million by the end of 2031.
Attract and grow 2,500 net new jobs in southeast Fort Wayne by the end of 2031.
Go in depth
Learn about the "why" behind the Allen County Together plan.
This presentation features expert insights from GFW Inc. president/CEO John Urbahns. John has helped lead the economic development team at GFW Inc. since its inception.
From 2014-22, the team assisted with more than 200 company expansions in Allen County, bringing more than 14,000 jobs, $636 million in new payroll, and $3.8 billion of private investment to the community. The team is laser-focused on helping local businesses thrive, visiting more than 500 companies each year to assist with unique challenges and opportunities.
Background
In November 2020, Greater Fort Wayne Inc. began the process of crafting an economic development action plan for Fort Wayne and Allen County. The goal was to create a strategic plan that would guide the community's continued economic growth over the next 10 years, with tactical implementation focused on the coming five years.With funding support from the City of Fort Wayne, Allen County Commissioners, and Indiana Michigan Power, GFW Inc. retained TIP Strategies to assist in crafting a strategy that will capitalize on the opportunities in front of us to build a nationally recognized economy.
As part of the discovery process for the project, the consulting team conducted 20 roundtables and dozens of individual interviews to gather information and ideas from more than 200 local stakeholders. These included business leaders, elected officials, educational leaders, developers, investors, community activists and advocates, and other stakeholders in Fort Wayne and Allen County.
The Allen County Together (ACT) plan charts a path to grow the local economy through a collaborative effort to increase business growth, job creation, entrepreneurship, capital investment, and real estate development over the coming decade.